Anchors Aweigh...
Thanks to me, Mommy and Daddy saw EVERY sunrise during the entire cruise! I sometimes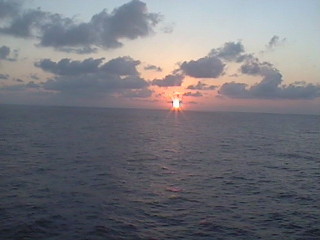 woke them up more than an hour before sunrise so that they wouldn't miss a thing! This picture was taken on Sunday, our first day at sea.
Our suite had a big balcony with two chairs and a table. I liked to stand there and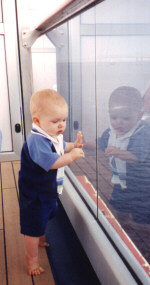 watch the ocean. I also liked to push the little table around on the balcony--it was my "car." At night, we would sit on the balcony while I drank my bottle, and the sound of the waves would put me to sleep.
Each night when we went to dinner, Miss Dora from Hungary came into our room and turned down our beds. She always left a special towel animal as a surprise for us. One night, she left me a chocolate chip cookie with an M&M smiley face.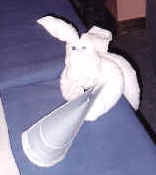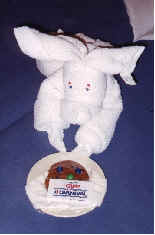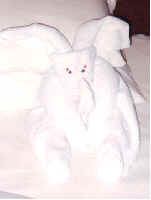 I had my very own crib in our room. I slept there, but then I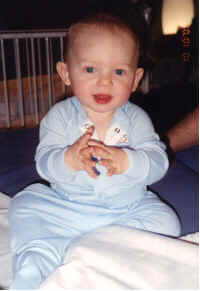 would play in Mommy and Daddy's bed sometimes. In this picture, I am clapping with Mommy while she sings "BINGO." That is one of my favorite songs. My other favorite song is "Do You Know The Ben-ja-min?" which is sung to the tune of "Do You Know The Muffin Man." Sometimes I try to sing along, but I don't know all of the words yet!
At dinner, Ashley would come play with me. She is a very sweet girl. We played the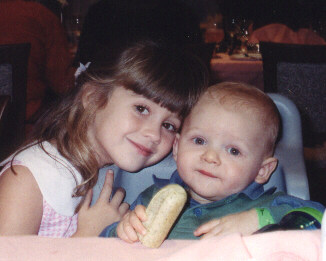 I'll-throw-the- spoons- on-the-floor- and-you-pick- them-up game. That was fun. Ashley must have played that game before, because she was very good at it! All of the people near us in the dining room said that we were very good kids.
The big people's pool had a special area for the water to wash up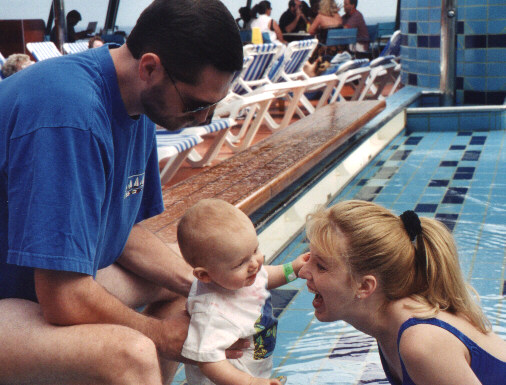 when the ship rocked. It made a perfect pool for me, since it was too windy at the children's pool at the front of the ship. I stood and sat in the water, but it was a little cool, so we didn't stay there long.
Daddy and I crawled up on the slide at the children's play area, but Daddy's too big and I'm too small to slide down. One day I will be big enough to go down the slide on my own!
The ship's staff were my friends. Alita from South Africa talked to me, gave me a banana, and took me for a ride in my high chair. I thanked her with a big laugh and smile. I think I was the only baby who got to go for a highchair ride that day. It was a lot of fun.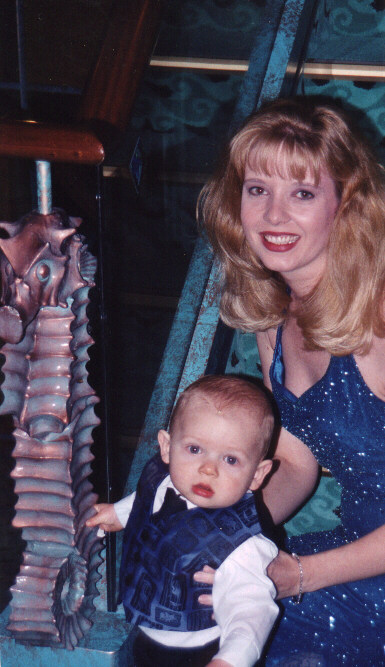 There was a seahorse like this one at the end of every stairway. These seahorses were mean. They bit people who walked by. Mommy had two bruises on her leg from being bitten by the same seahorse. I'm glad that they didn't bite me!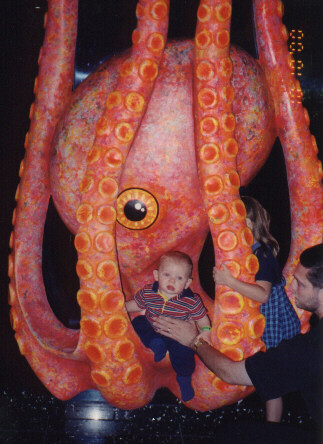 One night, a huge octopus did attack me at the Virtual Seas Arcade. I was so brave. I wasn't scared at all!
There was a pretty sunrise when we arrived in Charleston after our cruise. As always, I made sure that everyone woke up in plenty of time to see all of it!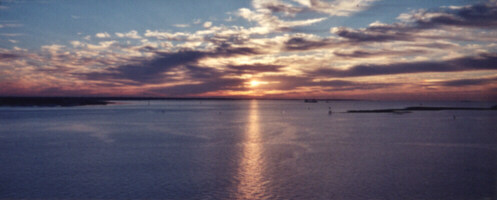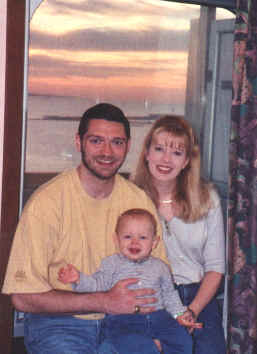 Although I enjoyed my first cruise, I was so happy to get back to my house. When Daddy put me on the floor in our living room, I crawled back and forth, smiling, clapping, and laughing. It was fun to travel, but it was also great to sleep in my own bed again.